Fugro Synergy commissions NorDrill Top Drive
Fugro has succesfully commissioned and installed a tailormade geotechnical drilling Top Drive from NorDrill for their vessel Fugro Synergy.
The Fugro Synergy is the first vessel to receive the newly developed NorDrill Top Drive, tailormade for marine and geotechnical drilling operations.
Based on a worldwide review of different top drive suppliers, Fugro selected NorDrill based on key aspects such as specifications, price, communication and openness.
"When we compared the NorDrill 5-inch standard internal diameter to the industry standard of 4 inches, the NorDrill Top Drive provided the Fugro Synergy with several operational advantages," said Dennis Koenen, Fugro's Global Director for Marine Geotechnics. "For example, the Top Drive allows the Fugro Synergy to use larger diameter coring tools (Geobor-S-size) which will improve sample quality for our clients in the energy sector."
The Nordrill Top Drive brings the Fugro Synergy additional advantages. Firstly, the top drive will be used in combination with Fugro's Seadevil coring system, which will allow for accurate depth control and a faster changeover between the standard WISON CPT and the sampling and coring operations. Secondly, it will also reduce HSSE exposure as it will require fewer personnel to action the changeover. Finally, NorDrill's Top Drive has vibration monitors, which will allow Fugro to closely monitor the condition of the top drive and plan preventive maintenance.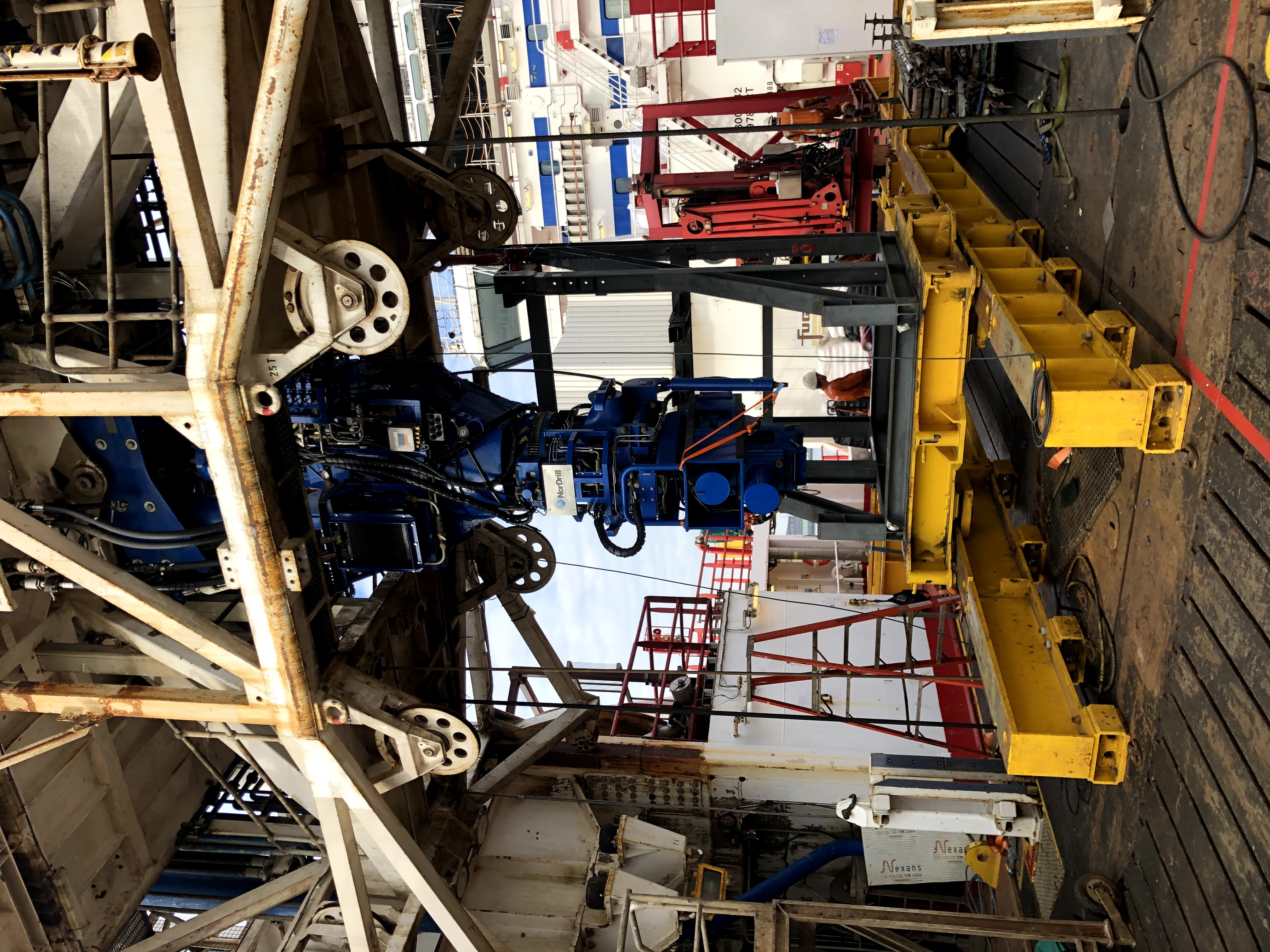 A breakthrough
The Fugro contract is the breakthrough contract for NorDrill, as the young company now looks to further increase their activity and presence within the offshore geotechnical drilling market.
"We strongly believe we are able to design, produce and develop drilling products with significant operational advantages for this specific geotechnical market niche," said Merethe Uleberg, NorDrill CEO. "Fugro is our first customer for our newly developed and tailormade geotechnical top drives. We look forward to securing new clients and projects within what we believe will be an exciting and growing market in the coming years."
Uleberg praised what she labels a "professional, friendly and productive" cooperation with Fugro. "The dialogue with Fugro during the design and production process has been excellent. As a young company we have learned a lot from them, and operated as a solid team during the installation phase. "The installation and commissioning of the NorDrill Top Drive onboard the Fugro Synergy took place in Amsterdam last week. In addition to the installed top drive, NorDrill has produced a second and identical version of the top drive that Fugro will store onshore as reserve.